Green LED lighting prevents discoloration of potatoes
The right choice of lighting can make a world of difference. Even the color of the light is an important factor in the food industry. Commissioned by Tolsma-Grisnich we have developed a LED Highbay that switches between white and green light. The highbay prevents the potato from turning green.
Technical LED developments
Tolsma-Grisnich is a specialist in the efficient storage and processing of potatoes, onions and carrots. They are continuously looking for technical developments that contribute to the products. Optimizing external factors such as temperature and humidity plays an important role in maintaining the quality of the potato.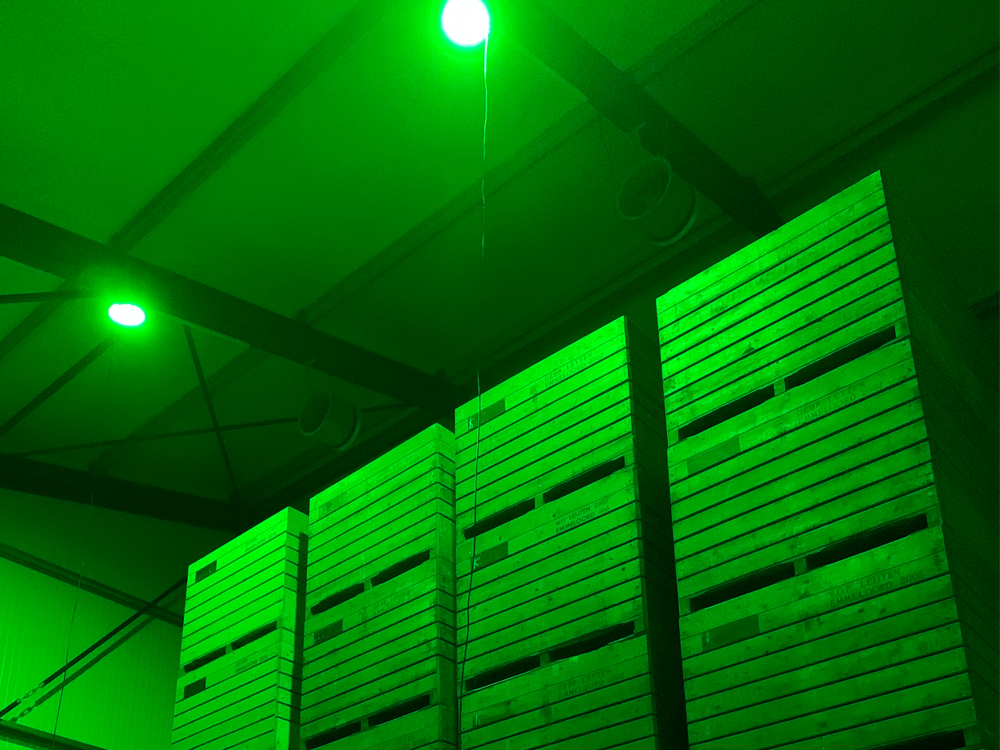 Special LED higbays for potato storage and processing area
White light can cause an increased concentration of solanine and chlorophyll in the potato, resulting in the potato turning green. To prevent this, green light is used to prevent the increase of toxins and discoloration. During the storage period, the lighting switches to green light. The special LED highbays are being used in the potato storage area and the processing area.
The LED highbays have a large beam angle. The large range ensures that fewer highbays are needed. Moreover, the highbays are very energy efficient.
Specifications
| | |
| --- | --- |
| Dimensions | Ø 33 cm x 15 cm |
| Materials | Die cast aluminium |
| Colour | Grey powder coated |
| Weight | 5,4 kg |
| IP rating | IP55 |
| Impact strength | IK07 |
| Warranty | 5 years |
| Lifetime | L90B10 (50.000 hrs) |
| Ambient temperature range | -20°C – +45°C |
| LED driver | Dual |
| Power cable | 2 meter, single cable |
---
Are you looking for a lighting solution? Please feel free to contact us.