Rubitech – brightens up with Intenz
We love challenges and prefer to get things done well. This is why we have developed our Intenz; a range of smart & heavy-duty LED solutions to match industries' every need.
Our armatures can handle high ambient temperatures, which make them a perfect fit to for example the steel and paper industries. In addition, the armatures are D-classified, which means they are safe to use even in fire-hazardous circumstances. The overheating protection with double sensors enables automatic dimming, should the ambient temperature temporarily rise above the maximum; once the temperature drops within the guidelines again, the armature will assume its original settings. Being controlled over the Internet, it can be constantly monitored and adapted to the changes in the surroundings.
---
Rubitech at Light + Building
We will be present at Light + Building. The world's leading trade fair for lighting and building services technology. Let's meet at Hall 4.1 B12.

---
Zero inrush current
The driver is developed with zero inrush current to avoid peaks in the circuit dividers, therefore preventing power cuts when the system will be initiated. The steady feed of electricity also prevents peaks in the electricity bill and ensures an environmental-friendly, sustainable lighting solution. The high output per armature ensures the need of less light installations per work floor, thereby making the Intenz also an economic investment.
We have developed our Intenz range to match all the imaginable industries' needs. However, as new industries emerge, the variety of needs increase.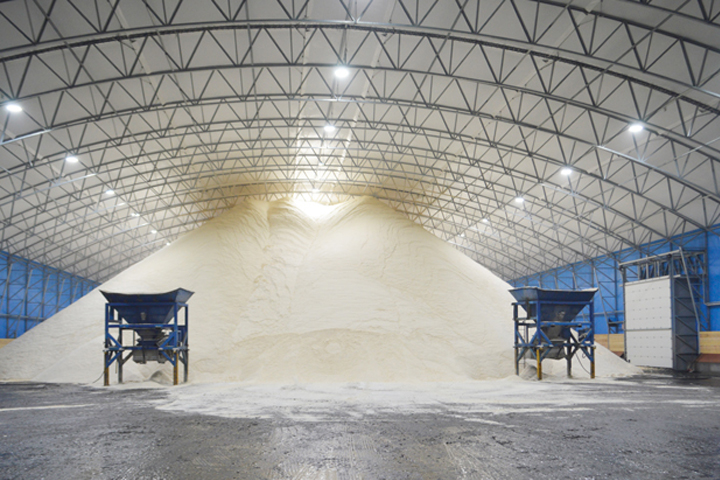 Intenz
LED highbay solutions
Check out the Intenz range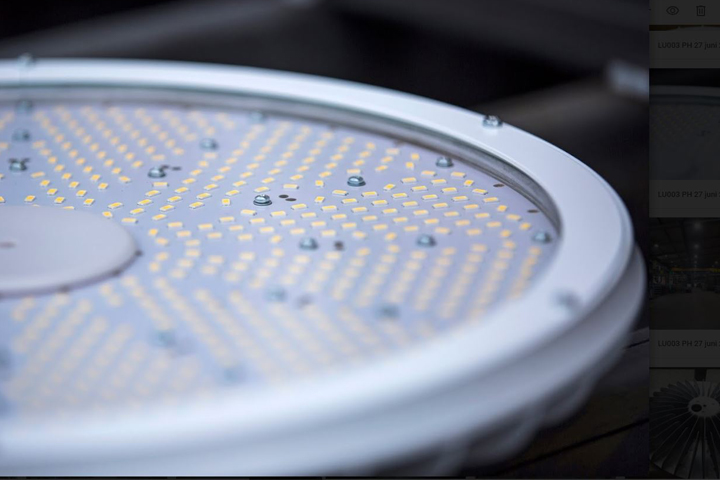 LED for OEM
Customized design
Read more about our solutions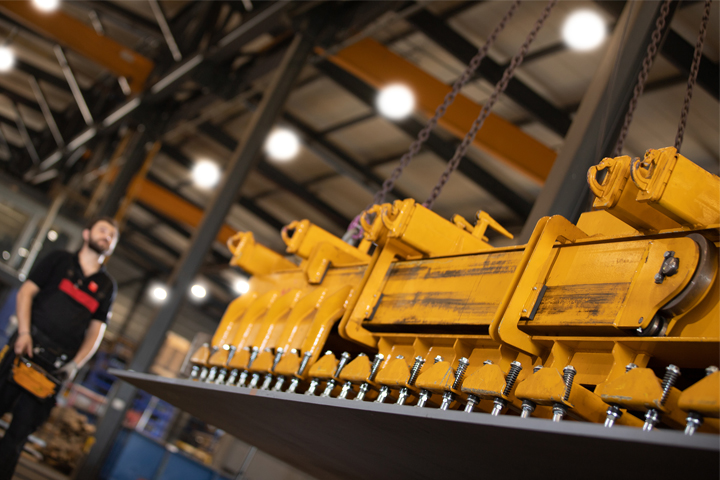 Essenz
Essential LED highbay
Check out the Essenz
The solution of the future, available today
Industrial high bay armatures are a product category, which has exploded in popularity in the latest years. Savings potential is large, which has made many armature producers to have a stab at creating something new and innovative.
The challenge that remains is that the armatures often hang high in poorly ventilated facilities. This, in combination with the demand of high and consistent light flow, has created a challenge in heat management that needs to be solved.
Integrated driver
To optimise the heat division, one solution has traditionally been an armature with an external driver. This way the heat source can be separated from the dons and diodes, which creates a bypass for the heat problem. If the armature breaks, the producer can simply send a replacement for the malfunctioning part and the problem seems to be solved. This solution however produces a clumsy, surroundings vulnerable design with the possibility of repetitive malfunctions.
Another commonly used way is to set a maximum daily usage in hours. Should the armature be used more, the producer cannot guarantee optimal performance anymore, thereby factually voiding the guarantee altogether.
Long life LED solution
These kinds of solutions however are not in line with today's industries' demand. The industries of today and tomorrow work in shifts, and need to be operational up to three shifts per day. The armatures to match these needs have to be reliable, have a long guarantee and ensure an efficient thermal management to ensure a long lifetime and hassle-free maintenance.
To ensure continuous production without costly maintenance interruptions, the successful companies make a decision based on quality.
Do you have a specific industry, which demands a highly adapted lighting solution? Feel free to make your specifications our challenge and let our R&D department brighten up your day.
With our Intenz built-to-spec solution we can create a customised armature according to your specific need. Ten hassle-free years guaranteed. In any circumstances.